The Photographer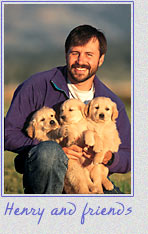 For Henry H. Holdsworth wildlife photography embodies much more than taking pictures of animals. It's about gaining insight through interaction with other living creatures. It's about the challenge of capturing behavior, color, composition and light in that one perfect moment that brings life to the subject. The sheer beauty of the images is important, but the true heart of Henry's photography is focused on bringing about a greater appreciation of nature and its preservation.

A biologist with a background in animal behavior and environmental education, Henry has spent over twenty-five years photographing wildlife and wilderness landscapes. Much of his work is centered on the natural history of threatened species such as the grizzly bear, bald eagle, bison and trumpeter swan. His images are used regularly by leading publications including National Geographic, Nature's Best, National Wildlife and Wildlife Conservation. His work has also been displayed in galleries and museums such as the Smithsonian National Museum of Natural History in Washington D.C. and The National Museum of Wildlife Art in Jackson, Wyoming. His first book on grizzlies was published in 1997, and has been followed by sixteen other photographic books on the mountains and wildlife of Alaska, Yellowstone and the Grand Tetons. His latest portfolio, "Moose of Yellowstone and Grand Teton" was released in June of 2009.

Henry now divides his time between running his Wild by Nature Gallery and photographing remote and wild areas. He and his family make their home in Jackson Hole, Wyoming.